We know that it can be tricky to qualify for a mortgage from a traditional lender if you haven't saved enough for a down payment, or if your credit score is too low. Are you thinking about getting a quick loan only need UMID without collateral?
Money is needed for significant purchases or crises at any moment. For a short-term financial emergency, a personal loan is the ideal solution. Personal loans are now available online and no collateral needed, there's no paperwork and a simple application process. Medical crises, debt payments, weddings, and other unplanned costs might be stressful if you do not have a sufficient savings reserve to fall back on. The nicest thing about a personal loan is that you do not have to state a reason for taking one out; the money you get when your application is approved is yours to use for whatever you like (except illegal activities).
No collateral loan with UMID make the entire procedure effortless and quick since these are the two primary identification documents recognized all over the country. You just need to fill some information and submit your own UMID/SSS ID, the application will be approved in just a few minutes.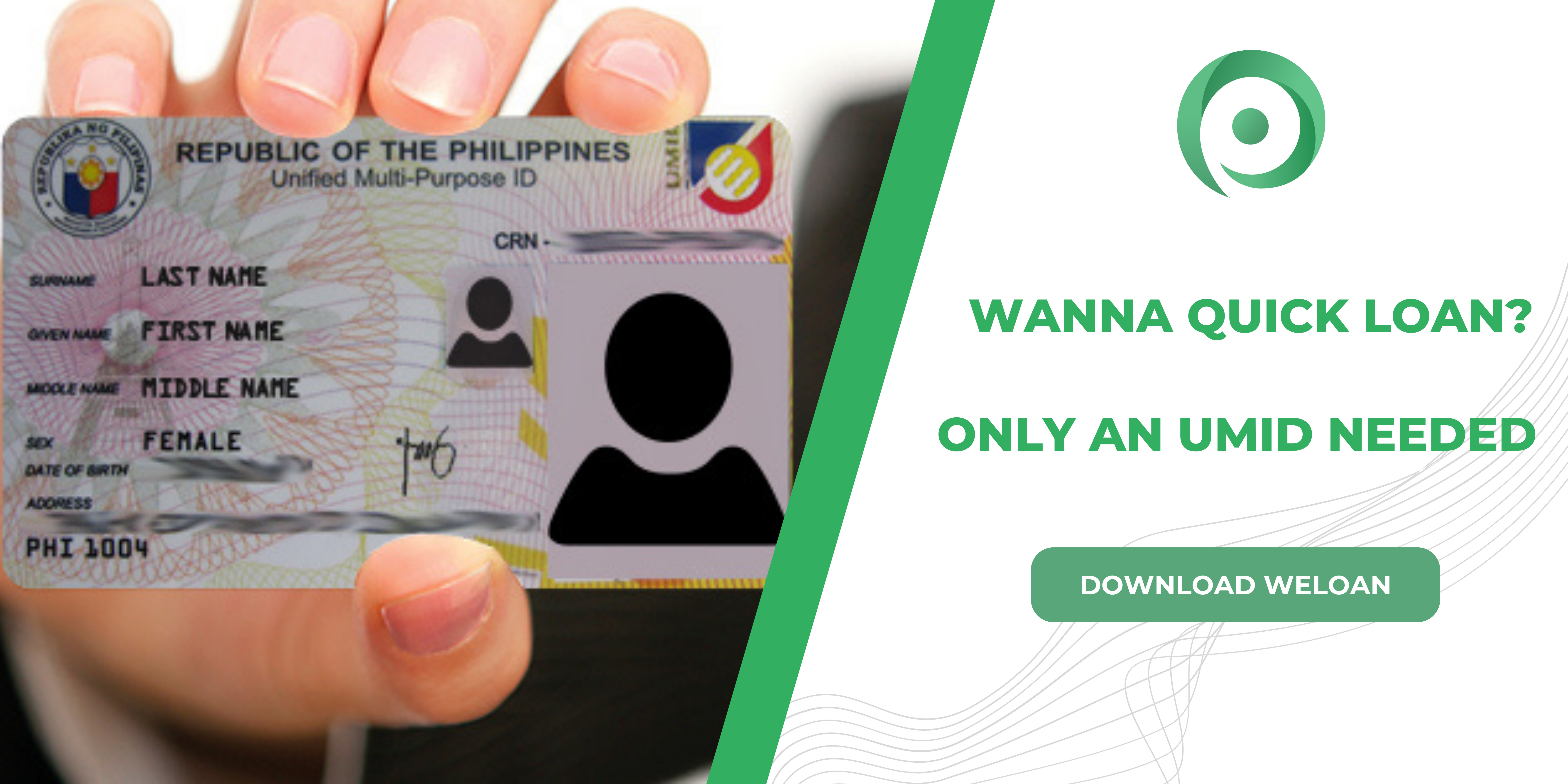 What do you understand by UMID?
The Unified Multi-Purpose ID (UMID) is a Philippine identity card which was introduced in 2010. The card was developed as a single card for the relations between several government-related agencies. The agency responsible for implementation is the Social Security System (SSS), and also Government Service Insurance System (GSIS), Philippine Health Insurance Corporation (PhilHealth), and the Pag-IBIG Fund (Home Development Mutual Fund) use the card.
Why do I need a UMID?
For the four key government entities described above, the UMID is a simplified identification system. It serves as a genuine government identification card. It can also be used for the following things:
With its single ID system, transactions with government offices and agencies are made easier.
The UMID Card may be used to see your account, contributions, and history at any SSS or GSIS office or kiosk.
With its smart chip technology, the third-generation UMID Card functions as an ATM for SSS loan disbursements. Members and beneficiaries can use the UMID ATM to withdraw and deposit money into their UMID bank account.
Philippine National Bank (PNB), Unionbank, Security Bank, and Asia United Bank (AUB) are among these banks, with more to follow.
The UMID's smart chip, which holds personal information and fingerprints, also protects cards against fraud.
It saves the government money thanks to its consolidated database.
It saves people time and money by removing the need to apply for numerous IDs with the aforementioned government entities.
How can you apply for no collateral loan with UMID?
UMID has a wealth of information concerning your financial situation. When applying for a personal loan, a UMID is required since it allows the lender to examine your credit history. When applying for a personal loan, almost all banks and non-banking financial firms (NBFCs) will ask for your UMID. Some lenders will require your SSS ID in order to process your application.
The advantage of having a UMID when applying for a personal loan is that it will make the process more easier. A personal loan application may usually be completed at home by following a few easy steps online.
How having a UMID helps with the personal loan process?
For all Filipino taxpayers, the UMID is a required form of identification. The UMID will simplify and speed up financial transactions across a variety of platforms. Having a UMID makes the entire process easier for both the lender and the borrower when applying for a personal loan.
The amount of papers necessary for a loan application is reduced when you have a UMID.
It speeds up the verification procedure, which takes one to two days on average.
You no longer need to go to a branch and may complete the full procedure from the comfort of your own home.
Your UMID number provides the lender with information about your credit history, which helps them determine whether to approve or reject your application.
Once your SSS ID is connected to your UMID, banking transactions such as loan applications become much easier to monitor.
When can we take personal loans, and how is it beneficial?
Personal loans are simple to get since financial aid is needed in times of financial hardship or personal emergency.
The following are some of the advantages of taking out a personal loan:
Unlike particular loans such as home or vehicle loans, a personal loan is flexible and can be used for any reason. A personal loan can be used to finance a large purchase, a home renovation, a marriage, a medical emergency, the repayment of personal debts, and more.
A personal loan amount is sent to your bank account once you have been accepted, and you may spend it whenever you choose.
Personal loans include extensive repayment options; you may select the repayment method and term that best matches your needs.
Personal loans are unsecured loans, which means you do not have to put up any security or collateral.
Personal loans are available from a variety of reputable financing organizations and banks, both online and offline. The entire procedure is digital, and it only takes a few key papers to complete.
Know the eligibility of applying for a personal loan with UMID
Be a Filipino citizen or Foreign National permanently residing in the Philippines.
Be at least 20 years old during application and not more than 60 years old upon loan maturity
Have at least one fixed landline number (either home or business) and a mobile number. (Mobile number will not be accepted as a stand-alone contact number).
You must have a good credit score. A credit score above 600 is advantageous for the applicant.
What are the requirements when applying for a quick loan?
Though a personal loan application requires fewer paperwork and verification checks than a home loan or a business loan, the few documents necessary for a personal loan application are critical for a good and rapid verification process.
Driver's license
Passport
Professional Regulation Commission (PRC) ID
Social Security System (SSS) ID
Unified Multipurpose ID (UMID)
Postal ID
COMELEC Voter's ID Card
Quick loan with UMID – A life-saver for many
No collateral loan has grown in popularity in recent years, particularly during and after the Covid epidemic, which struck even the most well-paid professionals. Because the whole process, from application to verification and loan disbursement, is simple and rapid, an increasing number of people are choosing for no collateral loan.
It is never been easier or more convenient to apply for a personal loan with UMID. It resulted in the elimination of redundant paperwork while also making the procedure swift and painless for both sides.
Weloan is a online loan app that enables you to get a quick loan in just a few clicks. We provide an easy way to apply for cash loans online also flexible repayment. We'll even help you pick the best payment plan for your needs.
If you have inquiries, click this link and support team will assist you.